In 1974, Commodity Forwarders, Inc. was incorporated by Alfred Kuehlewind as a one-man office in Los Angeles, specializing in perishable products; primarily strawberries to Europe by air. As time passed, the company expanded, first in Hilo, Hawaii, and then through the rest of the islands. Today, the company has fourteen offices around the United States including five in Hawaii, Anchorage, Seattle, San Francisco, Chicago, New York, Boston, Orlando, Miami and their corporate headquarters in Los Angeles.
The largest perishables freight forwarder in the United States, CFI was looking to update the look and feel of their brand to match the level of service, technology, investment and reputation they had with their client base. In 2017, Position : Global deployed a custom-built website highlighting their offices and sample product lines. Position : Global continues to produce content for CFI including articles for their blog, an internal employee newsletter, an external customer newsletter and managing social media feeds and campaigns around major annual events like the Boston Seafood Expo.
CFI's greatest assets are their people, their facilities and their technology. The goal was to produce a from-scratch custom website that highlighted the company's history, their service offerings and give a shipper looking to use them a clear view of the company's full capabilities. From a design point of view, the products they handle are beautiful – fresh produce, seafood, flowers and other florals and greens.
Position : Global has visited many of their facilities taking pictures and video of seasonal commodities such as fruit, vegetables, fish and crustaceans to build a content library for use on the website and in marketing materials.
---
The company tag line greets visitors and the images in the background rotate through a mix of the products they handle.
View Site
Tablet
Knowing that CFI's salespeople would use tablets to show off the company and network of offices, we optimized the menu to the right-side to appear and offer people the easy choice of pages and customers quick access to track a shipment or log into their accounts.
View Website
Mobile
Need to quickly find where an office is located? The mobile version of the site is optimized for quickly locating and linking to Google Maps for customers, drivers and potential clients to find their way to any of their offices.
View Website
Collateral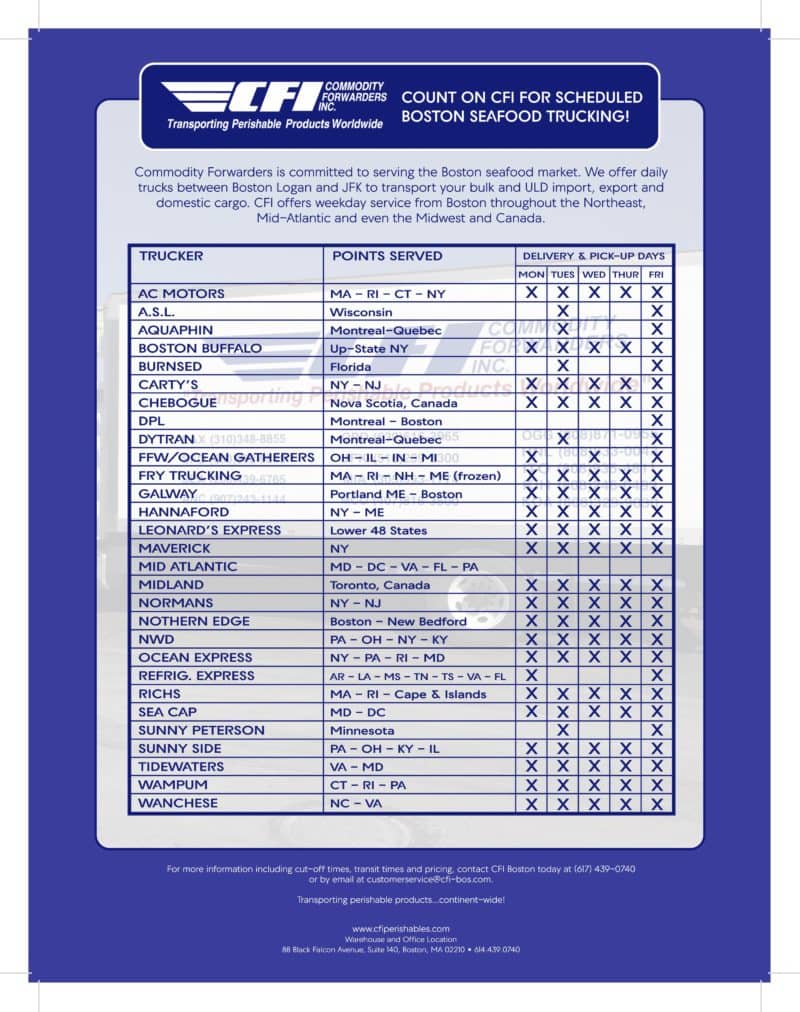 For Seafood Expo, P:G worked with CFI to produce a handout of the trucking network they have from their Boston seafood hub on the US East Coast showing destinations, carriers and transit to promote on-forwarding services for seafood arriving from overseas.
Would you like to get in touch with the team at Position : Global?
We would love to hear from you! Please fill out this form and we will get in touch with you shortly.